Highest Potassium Easy Snacks
9/12/2019
Sometimes you just want a quick healthy snack without having to cook or make preparations. Most vegetables have to be prepared, unless you're hardcore and eat them raw.
What follows are some raw fruits and vegetables you can just grab and eat without any prep work. As usual, they're all normalized to 200 calories for comparison purposes. Thus anything above 10% is considered high potassium.
Item
Potassium
Coconut water
75%
Tomatoes
75%
Cantaloupe
45%
Carrots
45%
Kiwi
29%
Peaches
28%
Dried Apricots
28%
Strawberries
27%
Nectarines
26%
Grapefruit
25%
Bananas
23%
Blackberries
22%
Clementines
22%
Oranges
21%
Cherries
20%
Plums
20%
Figs
18%
Grapes
16%
I find tomatoes, especially impressive, as you can purchase the grape tomatoes at costco quite cost effectively. They're delicious and don't require any cutting or opening up. Typically, I'll eat several grape tomatoes right before a run, for a quick potassium boost and then some more right after the run to recover electrolytes. Roma tomatoes are less sweet and flavorful, but can still make an excellent base for a soup. If you love the sweetness of tomatoes, go for smaller ones like cherry tomatoes or grape tomatoes.
Not mentioned above, tomato based products can also make for great snack ideas, such as Salsa with chips.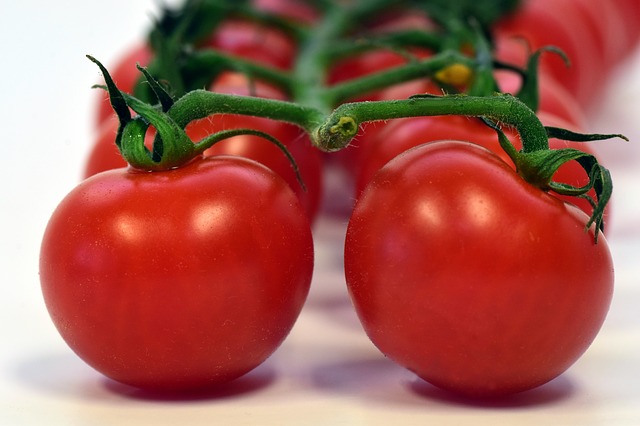 If you're looking for the cheapest one above, it's Bananas, roughly 1$ per lb or even less.
To keep following a healthy lifestyle, you've got to make it easy. The easier it is to stick with, the more likely you'll be to continue it. Having these snacks ready makes eating healthily on the run a lot easier. You can grab one on way out the door as part of your lunch.
Get the Latest Nutritional Density updates
Please enter your email address below